CaRE Lab Students Present at 2021 BMES Annual Meeting
Founded in 1968 and boasting over 5,000 members, the Biomedical Engineering Society is an organization that seeks to advance knowledge and education in biomedical engineering on a global scale. With initiatives supporting accreditation, licensure, morality, and the betterment of human health and well-being, the mission of the Biomedical Engineering Society includes the dissemination of new knowledge. In line with this mission, the Biomedical Engineering Society holds an Annual Meeting where leaders in the field come together to network and share new and evolving ideas. Held in Orlando, Florida, this year's event featured work by two students from Dr. Brandon Tefft's Cardiovascular Regenerative Engineering Laboratory, Jayne Wolf and Nathan Luzum.
Jayne Wolfe
Jayne is currently seeking her Ph.D. in biomedical engineering with a focus on cardiovascular tissue engineering. She comes to the Marquette-MCW Joint Department of Biomedical Engineering from the University of Iowa, where she received her bachelor's degree in Biomedical Engineering in 2015. Between 2015 and 2018, Jayne worked as an Engineer at Baxter Healthcare and later as a research technologist at Northwestern University. Since coming to Marquette-MCW, Jayne has been investigating methods of incorporating cells and growth factors into nanofiber biomaterials and of improving endothelial cell adhesion to biomaterials.
At the 2021 BMES Annual Meeting, Jayne presented a poster entitled Electrospinning with Porogen to Create a Layered Scaffold for a Tissue Engineered Vascular Graft, which describes the CaRE Lab's method of creating a layered scaffold for a tissue-engineered vascular graft using NaCl to control the porosity of the nanofiber scaffold. Using this method, investigators seek to create a scaffolding matrix with a dense inner layer and a loose middle layer. The achieved increased porosity of the matrix is intended to encourage cell and growth-factor infiltration.
The included image shows various stages of nanofiber matrix creation as seen under scanning electron microscope, with the top left showing the outer layer lacking NaCl, upper right showing the middle layer with NaCl, the bottom right showing middle layer after NaCl leaching, and bottom right showing a cross-section of the layered graft.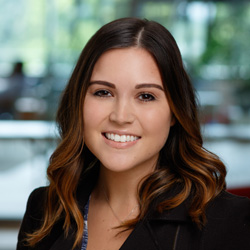 I thought the conference was a great experience! I attended BMES virtually last year and was happy to be able to go in-person this year. I got a lot more out of the conference by participating in-person. I was able to connect with students and faculty from across the country who are engaging in research areas close to mine. It was an opportunity to learn about what other groups are doing and get feedback on my research to improve it further.
Nathan Luzum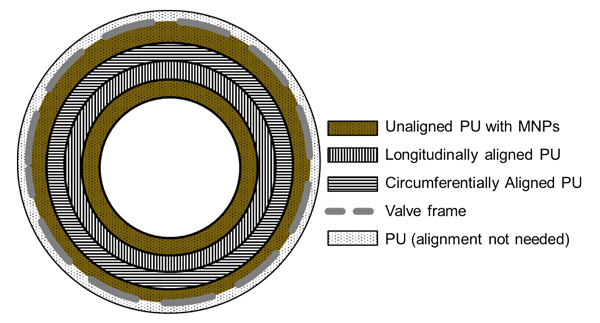 Nathan received his biomedical engineering degree from Clemson University in 2020. He is currently working with the CaRE Lab as a second-year medical student with interests that include biomaterials and medical device design. At this year's Biomedical Engineering Society Annual Meeting, Nathan presented on Aligned Nanofiber Biomaterials for a Prosthetic Heart Valve.
Nathan's work aims to create a magnetized biomaterial with multiple layers of alignment that will produce a prosthetic heart valve with excellent durability and limited need for anticoagulation. Through incorporation of magnetic nanoparticles, it is hypothesized that magnetically tagged endothelial cells can be captured and retained, improving hemocompatibility. Using modified electrospinning processes, distinct layers of aligned polyurethane fibers have been obtained, potentially approximating the anisotropic mechanical properties of native valve tissue.
The figure above represents a cross-section of the CaRE Lab's multi-layered valve design, with the outer, blood-contacting layers containing magnetic particles and the inner layers containing aligned nanofibers.
Fabrication of improved biomaterials for prosthetic heart valves is a very active and exciting area of research. It is great to see that many different approaches are being taken with the ultimate goal of creating valve replacements that are better for patients, and I am proud to have the opportunity to contribute to this important work.