Informed. Involved. Engaged.
In keeping with the guiding principles of Marquette University and the core values of the Medical College of Wisconsin, our team at the Biophotonics Laboratory participates in a wide variety of outreach activities both at home and abroad.
Our outreach activities are designed to help us ensure that our projects are meeting the needs of the communities we serve, that our innovations are reaching the people they are meant to help, and that the next generation of scientists knows that we are excited to work with them as they make their mark on the next wave of biomedical innovation.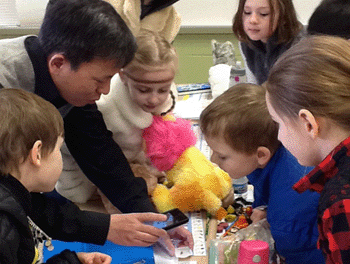 Whether presenting new technologies on the global stage or meeting with students right here in our own backyard, we could not be successful without the support of our community, and we will continue to reach out to our community as we seek new ways to remain informed, involved, and engaged.
Conversations with Scientists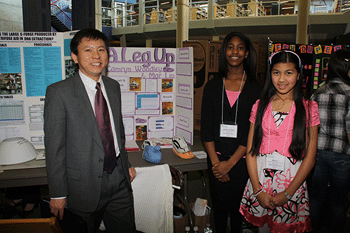 Presented in partnership with Marquette University and Medical College of Wisconsin Department of Biomedical Engineering, Conversations with Scientists is a four-part speaker series exploring how today's biomedical engineering experts are using this cutting-edge field to transform health and health care.
Learn more about Conversations with Scientists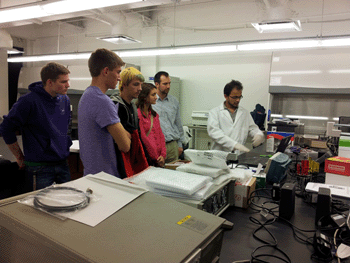 Get connected.
The Biophotonics Laboratory at the Marquette University and Medical College of Wisconsin Department of Biomedical Engineering is always looking for new ways to connect with the community. If you are interested in hosting an event or bringing your students to tour the lab, contact Dr. Bing Yu.
---
Images: Top: Dr. Bing Yu meets with the press after a conference in China where he presented the Smartphone Microendoscope. Second from Top: High school students from the Woodridge Biomedical Engineering Academy and their teacher, Mr. Matt Milosovic, visit the Marquette-MCW Biophotonics Laboratory. Second from Bottom: National Inventor's Hall of Fame School students Camryn Woodley (center) and Mar Lin (right) with Dr. Yu at BEST Medicine, 2013. Bottom: Dr. Yu shows Mrs. Katie Hall's second-grade class how to photograph insects with a smartphone in Ellsworth Hills Elementary School.