Wisconsin Crash Injury Research & Engineering Network Center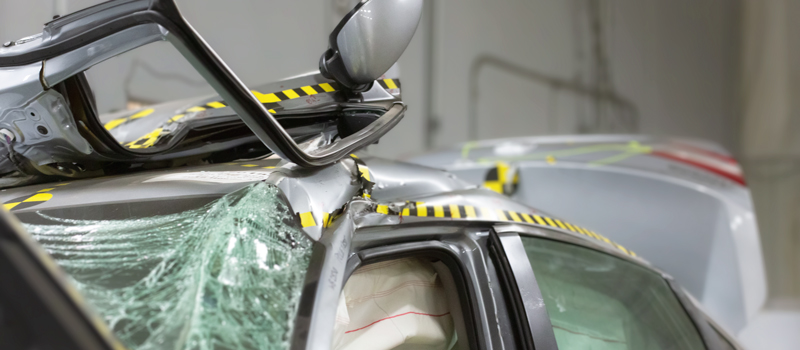 About CIREN | CIREN Centers | Program Objectives | Occupant Kinematics Training | Additional Information
The Crash Injury Research & Engineering Network (CIREN) seeks to improve the prevention, treatment, and rehabilitation of motor vehicle crash injuries to reduce deaths, disabilities, and human and economic costs. Operated under a contract from the National Highway Traffic Safety Administration, the Wisconsin CIREN Center provides expert analysis and reconstruction of crash case histories, offering novel insight into the biomechanics of injury to humans in motor vehicle accidents.
About CIREN
During early efforts to improve the safety of motor vehicles, safety engineers investigated real-world crashes, working closely with physicians to understand how injuries were sustained by occupants after real-world crashes. This effort led to the development of crash test dummies and crashworthiness standards that have helped to significantly reduce the number of deaths on the nation's roadways and mitigate the severity of injuries sustained in motor vehicle accidents. Over time, the focus of automotive safety engineers shifted to designing vehicles that produced low injury assessment reference values or "good numbers" from the instruments measuring impact forces on crash test dummies, as opposed to human occupants. The CIREN Program seeks to return the focus of automotive safety research to understanding how injuries are sustained by real people.
Case History Samples
There are two types of CIREN centers: Medical Centers, which enroll consenting crash victims into the study, and Engineering Centers, which analyze case histories to determine how injuries occurred. The Wisconsin CIREN Center is a Reviewing Engineering Center that derives its uniqueness and strengths from world-class biomechanics engineering investigators with expertise in physical testing and computational modeling.
Occupant Kinematics Case Sample
Brain Injury Case Sample
Pedestrian Crash Case Sample



Program Objectives
As part of the Wisconsin CIREN Center, the Joint Department of Biomedical Engineering investigates real-world crashes to further the following objectives:
R

eco

nstruct and understand crash and injury causation

Simulate crash scenarios in laboratory environment

Disseminate data to industry, regulatory, and public agencies

Develop strategies to reduce fatalities and injuries in motor vehicle crashes
Provide information to improve public infrastructure to reduce accidents

Develop and disseminate safety messages to the public

Train health care providers in vehicular safety and associated care

Reduce time of recovery and treatment cost

Occupant Kinematics Training
Co-hosted by the Wisconsin CIREN Center and the Madison Police Department, the Occupant Kinematics Training for the Traffic Crash Reconstructionist course is designed to teach law enforcement personnel techniques for integrating injury evidence with forensic evidence and the EDR to determine who was seated where in a vehicle at the time of impact.
Additional Information
Taking advantage of resources and expertise from both the Marquette-MCW Joint Department of Biomedical Engineering and the Medical College of Wisconsin's Department of Neurosurgery, the Wisconsin CIREN Center program is operated at the Zablocki VA Medical Center Laboratories under the direction of Founding Chair of MU-MCW Biomedical Engineering and Professor of Neurosurgery at the Medical College of Wisconsin, Dr. Frank A. Pintar, as well as CIREN Program Manager, Dale Halloway. For additional information on the Wisconsin CIREN Center, Contact Dale Halloway.